Philosophie
SFC Kaiserslautern is a part of the "Fußballakademie Kaiserslautern" and the official club of the Axel Roos soccer school (academy partner of Bundesliga side 1899 Hoffenheim)
SFC puts the development of young players in first place, to make sure the kids learn all necessary soccer skills and attributes. The younger you are, the easier it is to learn – the same counts for soccer!
Research on this topic also proves that all skills learned until the age of 13 can not be unlearnt again.  That's why wetreat every individual player carefully – in this age development is more important than winning or loosing! This is how we make sure to coach kids to be complete soccer players and athletes as adults!
To guarantee development and good coaching there is a huge demand on qualified coaches and staff. SFC sets thestandards very high when it comes to coaching. That's why all our coaches should hold a licence of the association and besides that are schooled internally by headcoach Axel Roos (UEFA Pro Licence , former assistant coach of the adult national teams of Albania and Bahrain). As a part of the Axel Roos soccer school, our coaches are also schooled by the staff of Bundesliga side TSG 1899 Hoffenheim.
Selecting good coaches is our aim – that's why we do not only take a look on the coaching skills, but also on pedagogical skills, which are very important for the work with kids.
Outside of state and country we also made a name for ourselves. Back in 2013 we hosted a camp in Dallas, Texas, which made it possible for 2 kids to get invited for tryouts by the German Bundesliga club TSG Hoffenheim. One of the kids has already participated and is still on their radar, waiting for the next invitation coming in fall of 2014.
Since the beginning of 2014 we partner with Ayses out of Dallas, Texas and will host 2 camps per year in the DFW area to make sure no talent is unseen. 
We are currently in negotiations with clubs in other states of the U.S. The partnerships with clubs overseas make it possible for SFC players to spend their vacation in the United States hosted by guest families, where they will participate in the training sessions of our partners. Furthermore kids aged 17-19 can be recommended to US Colleges through SFC.
We try to support every player indivually and help him to improve in the best possible way. Since we know that kids develop very differently, SFC stands for an integral development concept. Enjoying the game is an attribute which can't happen to get lost!
By following our integral development concept  we support:
The best possible development of a player through complex practise sessions and by learning all necessary techniques concerning soccer.
The best possible personal development of a player to be a role model on the field by following the Fair-Play rules towards opponents, teammates, parents, coaches and officials.
Enjoying the game, which is supposed to be the top priority when playing and practising.
Our coaches also live to the standards of the SFC philosophy. In addition to a high quality of coaching our coaches stand for  pedagogically appropriate  forms or working with kids.
Thereby, they follow the rules of our 6-pillars-concept concerning good coaching in youth soccer.
Directors
The SFC directors of coaching decide in cooperation with the responsible coaches about the rosters for each age group. Before making a final decision, interested players should be attending several training sessions.
Board of Directors:
Mr. Axel Roos
Director for goalkeeper development:
Pascal Boca
info@sfc-kl.de
COACHES
Axel Roos – U13,D1
Christian Zapp  –         U13, D1
info@sfc-kl.de
Bernd Klingkowski-    U12
info@sfc-kl.de
Axel Roos           – U10, E
info@sfc-kl.de
  GOALIE COACHING
Pascal Boca
info@sfc-kl.de
Management
President and chairman: Mr. Axel Roos
Managing Director: Axel Roos(U9-U13), Thomas Riedl(U15-U17)
Treasurer: Rosi Bocca
Secretary to the board: Christel Rubly
Advisor:
Public relations:
About headcoach Axel Roos
ABOUT HEADCOACH AXEL ROOS
Axel Roos was a professional soccer player for 16 years. In this time he won the German Bundesliga championship and the German Cup twice with his team 1.FC Kaiserslautern. He played UEFA Champions League and UEFA Cup (today Euro League) with appearances against famous teams such as FC Barcelona, Tottenham Hotspur, Ajax Amsterdam, Bayern Munich and many more.
After his career as a player Roos started attending coaching clinics. Today he is holder of the highest coaching license in the world, the UEFA Pro Licence which qualifies him to coach every team worldwide. He started his coaching career as the director of coaching for FK Pirmasens and went on to become the assistant coach of the national teams of Albania and Bahrain.
In 2007 he founded the Axel Roos soccer school, which today is the biggest soccer school in southwest Germany. With his excellent connections to soccer officials and pro teams all over Europe he wants to help young talented kids to achieve their dream of becoming a professional soccer player!
REFERENCES
Since 2010 the following players have successfully participated in our program to make the next move to a german youth academy of Bundesliga teams. Remarkably (with only 2 exceptions) those players developed have braved the roster seasonal turnovers of the academy teams ever since. They are still part of the academy teams.
The following players were scouted by us and recommended for tryouts to youth  academies of Bundesliga teams. Those players are still on the club's radar.
| | | |
| --- | --- | --- |
| Name / home club / country |  age group     |  Club            |
| Weston McKennie, FC Dallas/U.S. National Team U17, United States | 1998 | Juventus Turin |
| Paxton Pomykal, Dallas Texans Academy, United States | 1999 | TSG 1899 Hoffenheim |
Training
DEVELOPMENTAL GUIDELINES
Here are the most imporant guidelines for our way of SFC youth soccer development:
TRAINING FACILITIES
Currently our teams train and play at the following facilities:
Training center "Fußballakademie Kaiserslautern" -Kniebrech 11a, 67657 Kaiserslautern
The facility of the former club "ASV Kaiserslautern ist the official training center for our teams. Most of our home game are also played here. After having been vacant for a few years we are currently redecorating the site to reopen the sportsbar and to have a schooling room for video analysis.
SoccaFive Arena Kaiserslautern -Am Warmfreibad 3, 67657 Kaiserslautern
Whether it's rainy, stormy or wintertime – we can practise. During the bad weather periods our teams train on the indoor fields of the SoccaFive Arena on syntetic turf! So we can guarantee professional training sessions independent of the weather situation.
PRACTISE TIMES
Here you can find a detailled overview of our practise times
| | | |
| --- | --- | --- |
| Team | Weekday | Time |
| E1 | Wednesday Friday | 5 – 6.30pm 5 – 6.30 pm |
| U10 | Wednesday Friday | 5 – 6.30 pm 5 – 6.30 pm |
| | | |
| U12 | Wednesday Friday | 5 – 6.30 pm |
| U13 | Tuesday  Friday | 7 -8.30 pm |
|  U13 |  Wednesday |  6.30-8 pm |
| |  Wednesday |  6.30-7.30 pm |
| | Monday | 6  – 7.30 pm |
| | Friday | 3.30 – 5 pm |
TRYOUT
Is your child interested in playing for us? Just sign up for tryouts and show your skills in practise! We will take a close look at every participant and give feedback. SFC wants to give every player the opportunity to learn soccer the right way. That's why we have many teams with different levels of play – as long as there is space on the roster, there is space for every player. Besides our own rosters there are always open rosters at our partnering clubs, where we are also responsible for coaching clinics.
For a tryout please contact Mr. Axel Roos (info@sfc-kl.de)
GOALKEEPER DEVELOPMENT
The responsible person for the goalkeeper development here at SFC is Pascal Boca.
After being a goalie coach in smaller clubs for many years. He is  also responsible for 2 more teams, U10 and U12.
Partnerships
PARTNERING CLUBS NATIONAL
SFC partners with many clubs in the southwest area. The partnerships contain regular coaching clinics for our partners hosted by headcoach Axel Roos ,training sessions for youth teams and information exchange about talented players.  Here you can find a short presentation of our partnering clubs
PARTNERSHIPS NATIONAL
TSG 1899 Hoffenheim
As a part of the Axel Roos soccer school SFC partners with the german Bundesliga side TSG Hoffenheim.
Contents of the partnership are coaching clinics for our coaches, regular games against each other and national and international talent recruitment.
K-Town Rush
The club K-Town Rush belongs to the soccer academy Kaiserslautern (FAKL) and is, next to SFC, the second club in the FAKL system. Rush soccer is the largest youth soccer organisation in the world and is glad to provide soccer opportunities for the many american citizens in the Kaiserslautern area.
JFV Nord-West-Pfalz
JFV Nord-West-Pfalz can be seen as an association of youth clubs (SV Alsenborn, NMB Mehlingen, FC Eiche Sippersfeld and K-Town Rush) in the area of Kaiserslautern to maintain and improve youth soccer. We've partnered with JFV Nord-West-Pfalz since the beginning of the 2014/2015 season. The goal is to develop the SFC kids on a U14-U19 level.
PARTNERING CLUBS INTERNATIONAL
Have you ever thought about spending your summer break in the U.S.A. SFC offers his members the possibility of exchange programs with its partners. Travel to the states, get to know the area and play soccer!
United States of America: 
Dallas, Texas
The SFC Kaiserslautern has made 2 camps in Dallas. Through these camps we have  tryied to give every player the experience of the european way of coaching soccer. Every player should go home with the feeling of having learned something new and of having improved his game. In addition to that talented players should be given the opportunity to try out at the academy of our national partners.
This was a great opportunitie for both sides such as players and coaches exchange. SFC members will travel to Dallas and train with american club-members. The american players have had the same possibility coming to SFC.
Accomodation will be provided through host families to keep the travel expenses for the kids to a minimum.
Every SFC member should have the possibility to experience different cultures and languages and mix it with sports.
SCHOOL AND EDUCATION
Military United Football Club
our its main focus on the american citizens and their families stationed all over Europe. Young talents to get seen by our coaches  in tryouts to recommend theirselves for a place in our club, can also have private lessons in our soccer school. Besides our german players also have the american talents a chance to have private training.
If you are interested in participating feel free to contact us.
For further information visit our soccer school:
www.axelroos.com
BECOME A PARTNER
You would like to become a partner of SFC Kaiserslautern? Feel free to contact! We are always interested in new partnerships, bigger networks and better youth soccer potential!
Please contact Mr. Axel Roos (info@sfc-kl.de)
CHARITY
Socially disadvantaged:
Every kid should have the chance to play soccer at SFC. That is why we support families, that can't afford our club fees with the help of our sponsors. If you are concerned about affording the club fees please contact us personally. Financial disadvantages should not be an obstacle when it comes to talent! If you know such a case or have a child, whose soccer talent should be supported please let us know!
Sports for the disabled:
We support disabled people, when it comes to the passion for sports. Our training facility is open for the sports for the disabled!
SCOUTING
We are always interested in finding and helping talent. Through  camps and private lessons we want to give young soccer players a future – no matter if they choose to go to college or want to join professional teams.
Through the partnership with TSG 1899 Hoffenheim we have the possibility to set up tryouts for overseas talent. In the last 8 years we recommended more than 70 players to the clubs from the first, second and third league. The knownest player was Weston McKennie, who is playing by Juventus Turin.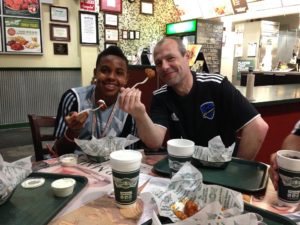 Weston McKennie(15 years old) and Axel Roos
If you are interested in our scouting system please contact:
For the United States – Axel Neumann